More sand for the beach of Vlieland
From September to December 2023, Rijkswaterstaat will be carrying out maintenance work on the beach on Vlieland. They will deposit a total of 1.5 million cubic meters of sand on the beach. This coastal maintenance will keep the island well protected from the sea.
Please note! Inconvenience for the public and hazardous work zone
It is prohibited to enter the work zone. Danger: quicksand!
The work zone (approx. 150 metres) has been cordoned off with wire mesh and pipes. This zone shifts every time the sand is dry enough to walk on.
The work zone must be passed on the dune side (beach poles 46-50). Work at Havenstrand: detour via Fortweg.
Keep dogs on a lead. Equestrians beware.
Swimming prohibited.
Water sports enthusiasts: keep 300 metres away from the dredger.
Do not sail between the ship and the beach: there is a pipe in the water here.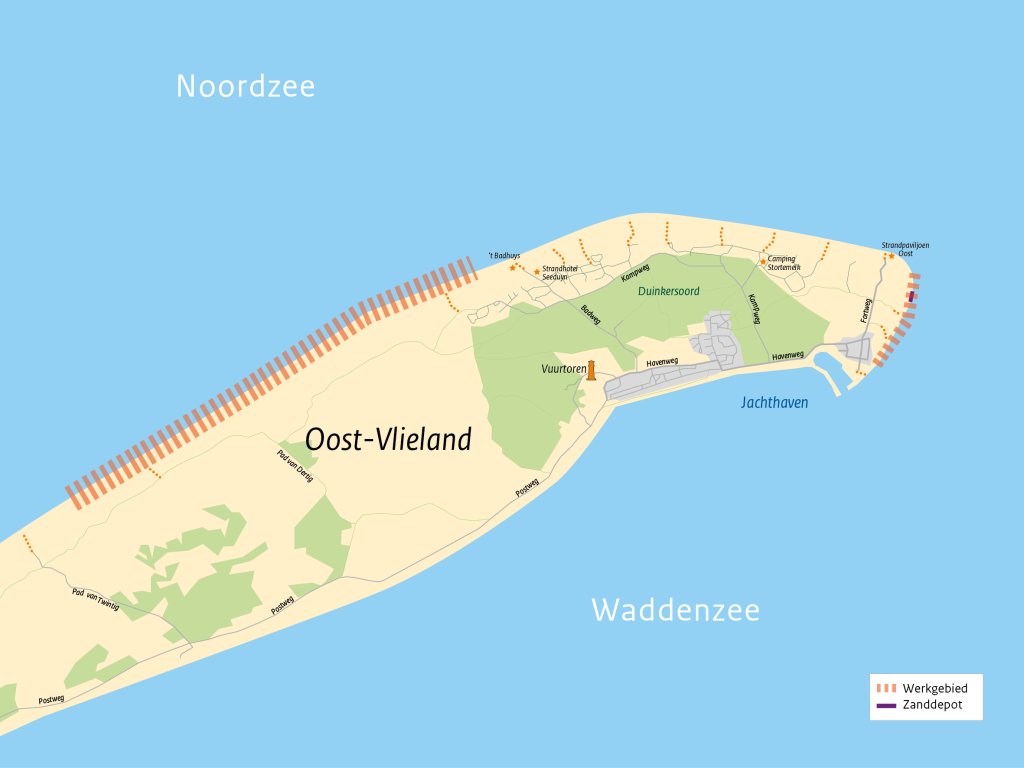 Maintainance of the coast
Rijkswaterstaat regularly returns to Vlieland for coastal maintenance. The coast of the island wears out continuously, because wind, waves and currents carry sand with them. On the east side there is a lot of erosion as a result of the strong current through the Vliestroom, the channel between Vlieland and Terschelling.
By adding new sand we keep the coast in place and we don't lose any land. Rijkswaterstaat last applied sand to the beach here in 2019. In 2021, they also added extra sand to the seabed just off the coast of the island (foreshore nourishment).
Sand from the North Sea
The sand for replenishments on Vlieland comes from the North Sea bed, 10-12 km from the coast. Special dredgers, 'trailing suction hopper dredgers', suck this up from the seabed. The ship then takes this to the coast and sprays it onto the beach via a tube. Here the sand is further spread with bulldozers and shovels. This work continues day and night.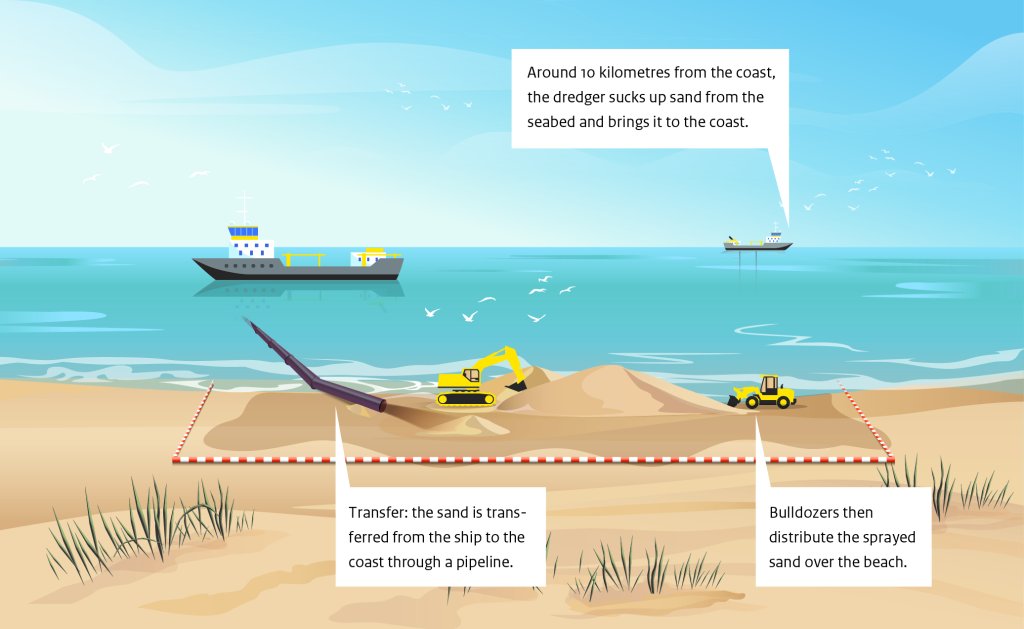 Nature
While carrying out coastal maintenance, Rijkswaterstaat always takes the natural surroundings into account. They keep as far away as possible from protected birds and seals to avoid disturbing them.
Want to know more? See www.rijkswaterstaat.nl/kustonderhoud(externe link)